Architectural Shingles In Texas
Architectural Shingle Roof Replacement & Roof Repair
THIRTY YEARS AGO A GENERATION OF PRODUCTS REDEFINED ROOFING DESIGN, AND THEY CONTINUE TO INSPIRE TODAY.
In the 1980s, enhancements to the dimensional shingle resulted in a new generation of high-quality asphalt roofing products with distinctive, often dramatic, appearances. With these advancements came a new name: architectural roofing shingles. Also known as laminated or dimensional shingles, architectural roofing shingles are among the highest quality roofing products made.
Traditionally, they are composed of a heavy fiberglass mat base and ceramic-coated mineral granules that are tightly embedded in carefully refined, water-resistant asphalt.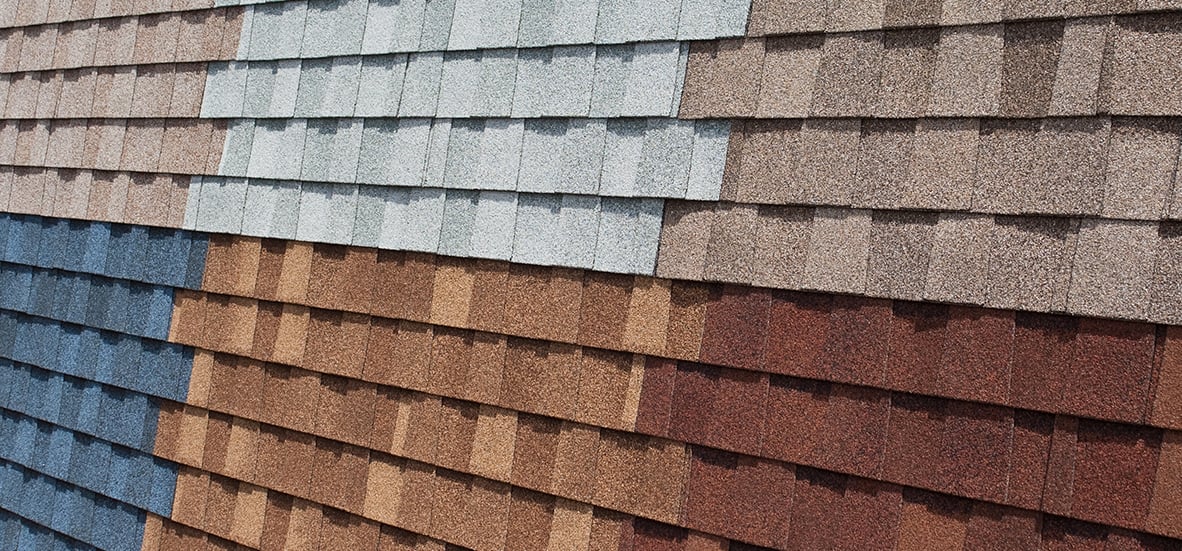 Both laminated shingles and traditional 3-tab shingles provide effective protection against wind uplift and blow-off. They also guard against damaging water penetration from wind-driven rain, offering you enhanced protection against the elements and great weatherability.
In the roofing industry, laminated shingles are further described as being "architectural" because they're specially engineered to create architectural interest for the roof by means of the individual shingles contour, cut and dimensional thickness. The move from traditional 3-tabs to architectural laminated shingles was mainly an aesthetic evolution.
Architectural asphalt shingles can be made to simulate the impressive, sought-after look of genuine cedar shakes or natural slate tiles without the installation, weight, maintenance, flammability worries (in the case of real wood) and expense associated with genuine wood and stone roofing materials.
Get started with a quick, free estimate.
Some manufacturers' lines of architectural laminated shingles are available in quite an array of colors; however, those lines that are designed to mimic the look of genuine wood shakes or natural slate tiles will necessarily be limited to the same color blends as those found in nature; e.g., earthy or reddish browns, light and dark variations of grey to black.
Architectural laminated shingles are often described as "high-definition" because of the depth and contour of the individual shingles profile. Some manufacturers use angled cuts while others, like IKO, use a straight cut which enhances the perception of depth and the appearance of a shake or tile roof.
Types of Architectural Shingles
Architectural Shingles – Cedar Shakes: Some of the most attractive architectural roofing shingles simulate cedar wood shakes (such as CertainTeed's Presidential Shake shingles). These shingles are quite thick with random slots similar to real shakes.
Architectural Shingles – Slate: Another unique architectural shingle design imitates the look of slate (such as CertainTeed's Belmont, Grand Manor and Carriage House shingles) without the weight issues that normally accompany those materials. These architectural roofing shingles do not require any additional roof support as slate would.
The products' random colors and textures better accent the steep roof planes, turrets, and gable features of roofs. Many product lines offer hip and ridge accessory shingles (such as CertainTeed's Cedar Crest, Shadow Ridge and Mountain Ridge) that highlight a roof's many sections and complement the shingle.
Frequent Questions We Hear Often
Over
2,000 Homeowners

Have Trusted Us.
Ark Roofers and Jeff Whitt were excellent to work with. I have three rental properties in the same area that all needed hew roofs due to hail damage. Jeff and ark helped me get the most out of the insurance companies, took care of planning, coordinated with the tenants, and basically made it as easy as possible for me to manage the entire process. I highly recommend Ark & Jeff!
Erika Rodriguez
2022-12-22
Ark felt like family since the first day I met with them. Amazing people work at Ark, they strive to do their best and their priority is the customer ❤️❤️
Excellent portfolio of photos given to us after a post hail inspection. Had no damage fortunately. Very kind and informative!!
The staff came on schedule and abled to finish the job by end of day
Great service. Referred to several individuals Jason Herrin was on our roof several times to make sure it was being done properly. Thanks Jason!
I was very impressed with the quality of work, the professionalism and the follow through they provided. They handled all aspects of my insurance, following up with them repeatedly, even when my insurance became unresponsive. I highly recommend would absolutely use them again.
Rita Zimmermann
2022-12-08
I cannot say enough good things about Ark Roofer. I had them install new gutters with a leaf covers. From the gentleman who came for the estimate to the installation crew they were so professional. I also like the fact that there was constant communication from calls, texts and even an email from the owner .The experience was excellent.