Architectural Shingle Roofing
Architectural Shingles In Texas
Architectural Shingle Roof Replacement & Roof Repair
THIRTY YEARS AGO A GENERATION OF PRODUCTS REDEFINED ROOFING DESIGN, AND THEY CONTINUE TO INSPIRE TODAY.
In the 1980s, enhancements to the dimensional shingle resulted in a new generation of high-quality asphalt roofing products with distinctive, often dramatic, appearances. With these advancements came a new name: architectural roofing shingles. Also known as laminated or dimensional shingles, architectural roofing shingles are among the highest quality roofing products made.
Traditionally, they are composed of a heavy fiberglass mat base and ceramic-coated mineral granules that are tightly embedded in carefully refined, water-resistant asphalt.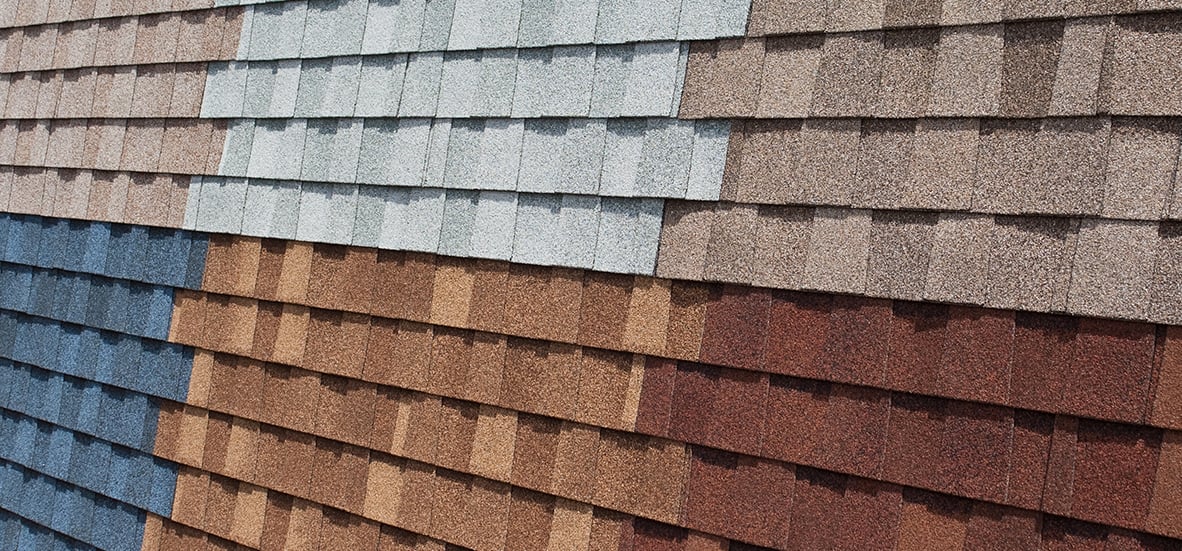 Both laminated shingles and traditional 3-tab shingles provide effective protection against wind uplift and blow-off. They also guard against damaging water penetration from wind-driven rain, offering you enhanced protection against the elements and great weatherability.
In the roofing industry, laminated shingles are further described as being "architectural" because they're specially engineered to create architectural interest for the roof by means of the individual shingles contour, cut and dimensional thickness. The move from traditional 3-tabs to architectural laminated shingles was mainly an aesthetic evolution.
Architectural asphalt shingles can be made to simulate the impressive, sought-after look of genuine cedar shakes or natural slate tiles without the installation, weight, maintenance, flammability worries (in the case of real wood) and expense associated with genuine wood and stone roofing materials.
Get started with a quick, free estimate.
Some manufacturers' lines of architectural laminated shingles are available in quite an array of colors; however, those lines that are designed to mimic the look of genuine wood shakes or natural slate tiles will necessarily be limited to the same color blends as those found in nature; e.g., earthy or reddish browns, light and dark variations of grey to black.
Architectural laminated shingles are often described as "high-definition" because of the depth and contour of the individual shingles profile. Some manufacturers use angled cuts while others, like IKO, use a straight cut which enhances the perception of depth and the appearance of a shake or tile roof.
Types of Architectural Shingles
Architectural Shingles – Cedar Shakes: Some of the most attractive architectural roofing shingles simulate cedar wood shakes (such as CertainTeed's Presidential Shake shingles). These shingles are quite thick with random slots similar to real shakes.
Architectural Shingles – Slate: Another unique architectural shingle design imitates the look of slate (such as CertainTeed's Belmont, Grand Manor and Carriage House shingles) without the weight issues that normally accompany those materials. These architectural roofing shingles do not require any additional roof support as slate would.
The products' random colors and textures better accent the steep roof planes, turrets, and gable features of roofs. Many product lines offer hip and ridge accessory shingles (such as CertainTeed's Cedar Crest, Shadow Ridge and Mountain Ridge) that highlight a roof's many sections and complement the shingle.
Frequent Questions We Hear Often
Over
2,000 Homeowners

Have Trusted Us.
ARK Roofers did a fantastic job on our roof! I worked with Jeff Whitt, who coordinated the work crew, billing and handled all the logistics expertly. The crew started early in the morning, stayed late until the job was completed, and delivered a solid spectacular product, on time and on budget. The roof looks terrific!!! I'd like to recommend them to anyone, as we are well pleased. They did the job in two days, despite the heat which was oppressive. If you are in need of any roofing, and looking to work with someone trustworthy, I urge you to please contact Jeff with ARK Roofer! This company did quite a few of the homes here in Grand Mesa…
Ark won the contract to repair hail damage to my home because of their presentation and recommendations. The owner worked with the insurance company on several occasions and garnered more claim coverage than originally offered. I considered his presence with the claims adjuster to be extremely valuable. Like many full-service contractors Ark used sub-contractors. My one complaint was lack of supervision of the major sub-contractor workers while the job was in progress. The final product was outstanding, however.
I learned about Ark Roofer through a friend. While going through the process I worked with Sam. Sam was extremely helpful, unkept me updated throughout and answered any questions that I had about the process. I highly recommend Ark Roofer to anyone who is in need of a new roof
We had ARK Roofing completely replace our roof, gutters, add an upgraded layer of insulation, and upgrade our attic vents. It was a big undertaking and ARK did a superb job. Luke explained all our options, took time to go over the details, answered all our questions and even gave color recommendations for shingles when I had a difficult time choosing. He and his crew were professional and easy to work with. We also painted our exterior stucco and Hardieplank through his business. Our house looks great: updated and new looking. I highly recommend!
Would highly recommend. Responsive and professional.
Michal Ostrowski
2022-06-22
Made an effort on short notice to schedule work when we were away on vacation. Professional installation- large projects are never problem free, but when issues were identified they were rectified immediately with no fuss.
I used Ark Roofer to replace my roof. They were super responsive and great to work with. Everything they did was professional and on time. The cost was exactly what they quoted me with no surprises. I will 100% use them again if I need roof, gutter, or paint work!