Residential Flat Roofing Contractor in Texas
Around for centuries, flat roof construction has a place in modern urban environments. In Texas, they have proven to be an impressive, cost-effective, and durable roofing option for homeowners.
Flat roofs lend that unique Southwestern feel to our communities. Easy to repair and replace, they are common in Texas homes and are often used alongside pitched roofs.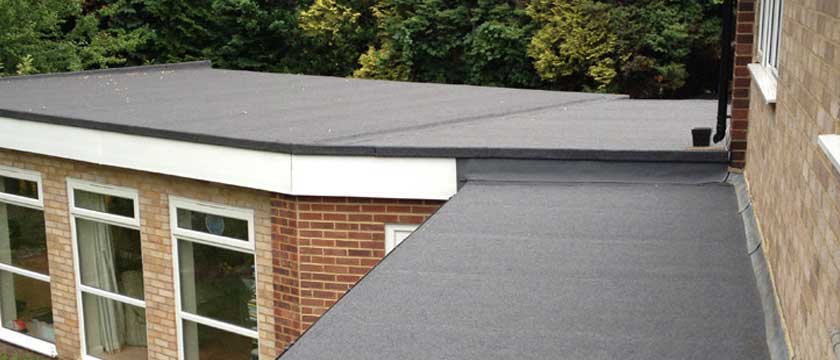 Common Materials Used in Flat Roof Construction in Texas
Texas

 Built-Up Roof System

Flat roofs in Texas include built-up roofing systems using hot tar. As a flat roof company in Texas, we offer this system due to its popularity and affordability. The base of this roof is layers of hot tar. Between the layers, we use water-resilient material. We ensure your roof has a durable finish by topping it off with a broad layering of pebbles.
Texas

 Cool Flat Roofing

Flat roofs in Texas often have a white elastomeric layer on top. This helps in keeping the sun and its heat at bay. Moreover, the coating also expands and contracts as the temperature rises and drops. This can help you stay cool, literally and figuratively as you not only enjoy the cool atmosphere but a lower electricity bill!
Texas

 PVC Roofing

Short for polyvinyl chloride, PVC is a type of plastic, which can be used to create flat roofs. Modern technology makes it possible to use PVC for building sturdy roofs. PVC roofing has varying thicknesses, which determines the durability and life of the roof. You can count on our best roofing company in Texas to make a PVC roof with optimal dimensions.
Modified Bitumen Flat Roofing System in Texas
Modified bitumen is a popular choice of roofing materials in Texas. In the past, installing this type of roof was hazardous. Today, we use adhesives to ensure a safe setup. Building the mineral surface using light colors means your roof can reflect solar heat.
Flat Roofing Contractors in Texas
Using each of the above materials, we have built, insulated and replaced numerous flat roofing systems for satisfied homeowners across Texas. Each material has its own qualities and we understand the best way to use them. While we don't want you to get bogged down by too many details, suffice it to say that our flat roofing installations are built to last in the climate and prevailing weather conditions of Texas.
Installation, Replacement and Repair Process for Flat Roofs in Texas
We install any system created for a sloped roof including clay or concrete tiles and asphalt shingles by overlapping each row on top of one another. The roofing system and roof pitch work together to shed rainwater as it is falling. Texas flat roofs have little or no pitch. This means eventually water would penetrate beneath your tiles or shingles.
The result would be substrate rotting and interior leaks. For this reason, our experience is crucial to ensure all possible seams are avoided. Water is a threat because it can find access through inadequately sealed seams and holes. We eliminate this possibility by creating a barrier impenetrable to water. We accomplish this by using a physical barrier such as a coating or rubber membrane.
Your flat roof in Texas requires a layer of insulation, hot air welding or adhesives. We install certain types of modified bitumen using a torch to help ensure the seal is properly heated.
Get started with a quick, free estimate.
Why Choose Us for Your Next Flat Roof Installation in Texas?
Our team has installed and performed repairs for flat roofs in Texas for over 50 years combined. We take pride in helping homeowners receive a high-quality roofing system for a fair price. Whether you need flat roof repair in Texas or a new installation, we will come to your home to discuss the options available and provide you with an estimate to replace your roof.
Pros and Cons of Common Texas Flat Roofs
There are both pros and cons to flat roof replacement. In addition to the benefits and disadvantages of a flat roof, you also need to consider the cost of flat roof repair.
• Our high-end membranes will last between 30 and 40 years
• Energy efficient and solar reflective
• Flat roof repair Texas is simple with EPDM rubber
• We offer waterproof TPO and PVC roofing systems with hot-air welded seams
• Some materials for flat roofs are recyclable
• We can install a flat roof on your patio or garden rooftop
• Resists inclement Texas weather including wind and rain
• EPDM membranes with seams have a tendency to leak
• Proper flashing is necessary to prevent leaks from exterior penetrations
• Expert and expensive equipment and installation are required
• Sharp objects can puncture Texas flat roofs
Frequent Questions We Hear Often
Over
2,000 Homeowners

Have Trusted Us.
Ark Roofers and Jeff Whitt were excellent to work with. I have three rental properties in the same area that all needed hew roofs due to hail damage. Jeff and ark helped me get the most out of the insurance companies, took care of planning, coordinated with the tenants, and basically made it as easy as possible for me to manage the entire process. I highly recommend Ark & Jeff!
Erika Rodriguez
2022-12-22
Ark felt like family since the first day I met with them. Amazing people work at Ark, they strive to do their best and their priority is the customer ❤️❤️
Excellent portfolio of photos given to us after a post hail inspection. Had no damage fortunately. Very kind and informative!!
The staff came on schedule and abled to finish the job by end of day
Great service. Referred to several individuals Jason Herrin was on our roof several times to make sure it was being done properly. Thanks Jason!
I was very impressed with the quality of work, the professionalism and the follow through they provided. They handled all aspects of my insurance, following up with them repeatedly, even when my insurance became unresponsive. I highly recommend would absolutely use them again.
Rita Zimmermann
2022-12-08
I cannot say enough good things about Ark Roofer. I had them install new gutters with a leaf covers. From the gentleman who came for the estimate to the installation crew they were so professional. I also like the fact that there was constant communication from calls, texts and even an email from the owner .The experience was excellent.